Knysna 500 "Catch my Drift"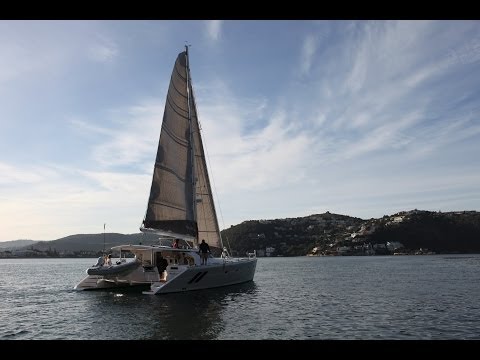 Knysna Yacht is a boutique builder that cranks out about four Knysna 500s each year.
Knysna builds semi-custom boats-they make sure that the vessel is constructed to be a sound cruiser and everything that goes in between those bulkheads is, up to the customer.
Knysna likes to fly customers out to the factory for a tour and to work with Kevin and the design team on the details of the build.
This is a strange private vessel in Charter configuration with 4 double cabins and crew cabin in the port bow.

"Catch my Drift" has cruised the Indian oceans islands and is now getting minor work done at the shipyard. Bluewater ready.
More...
Ref.nr:
SI170912
Hull material:
Polyester
Dimensions:
15.24m x 7.96m x 1.21m
Yard:
Knysna Yacht Company
Rigging:
Sloop Fractional Rigged
Designer:
Angelo Lavranos
Year Built:
2014
Location:
Cape Town, South Africa
Displacement:
13500 kg
VAT status:
VAT not paid
Engine:
Yanmar/Volvo 2x 54 Hp
Price:
Please contact us us for detailed specifications and/or viewing appointment.
+34 931142172

Get the full specification
back to overview